1.Dry Pet food pellet machine Product Application

The dog food production Line can produce dry food for all breeds and all ages. It mainly take cereals powder, bone meal(fresh bone), meat powder(fresh meat), milk powder, wheat flour, salt, vitamins, chicken oil, beef tallow, and so on for production.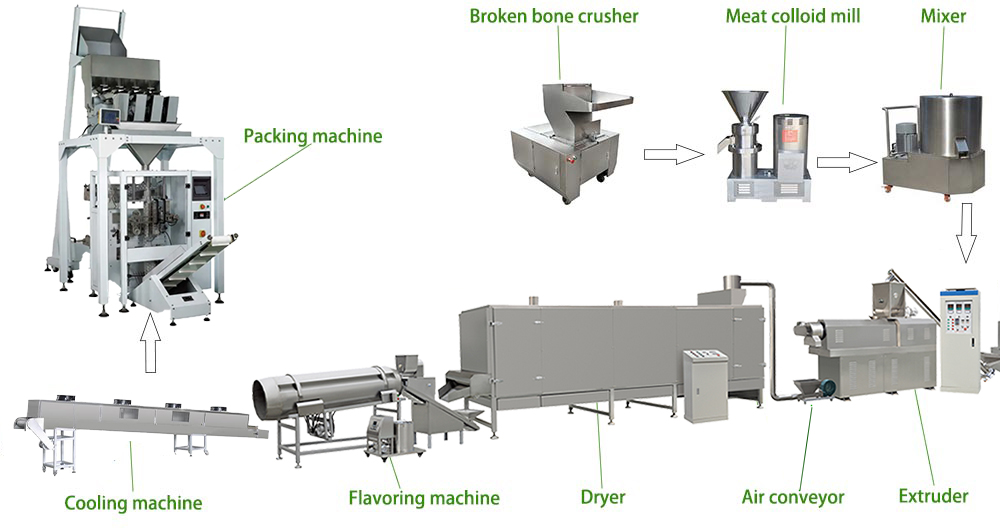 Dry dog food pellet machine Technical parameters

Model Parameters


SLG-65


SLG-70

SLG-85

Input Voltage

380V/50Hz ,3P

380V/50Hz ,3P

380V/50Hz ,3P

Installed Power

66.84 kw

97.65 kw

146.65 kw

Power Consumption

47.84 kw

76.65 kw

97.05 kw

Capacity(output)

100-150 kg/h

200-300 kg/h

300-550 kg/h

Installation Size

17.0 x1.2x 2.5 m

18.0 x1.2x 2.5 m

22.0 x1.2x 2.5 m

Manpower Needed

1 ~2 workers

1 ~2 workers

1 ~2 workers

Material

Stainless steel

Stainless steel

Stainless steel
2. Raw materials: Adopts soya meal, fish meal, bone meal, rice bran etc. As raw materials.
3. Pet food pellet machine Flow of chart:
Mixer→Screw Conveyor→Pet food machine line→Conveyor→Dryer→Hoister→Flavoring Drum and oil sprayer→Cooling machine→Packing machine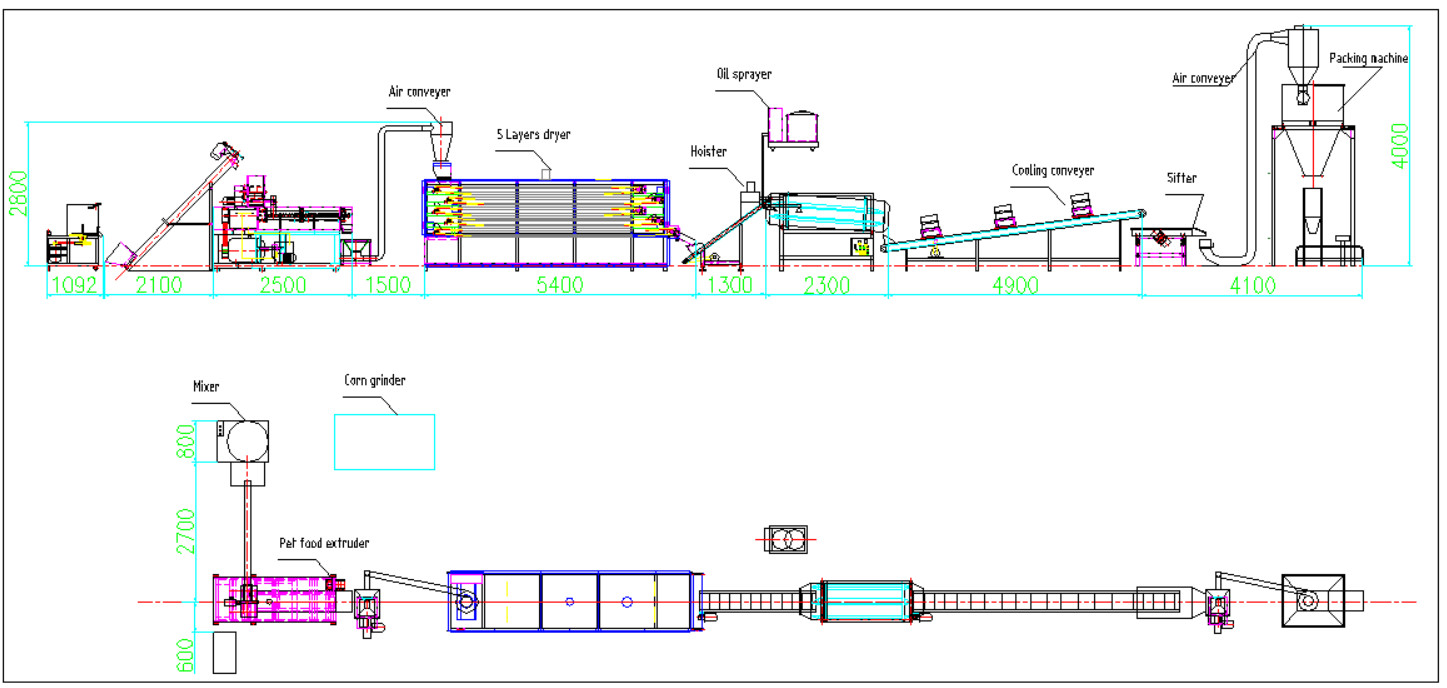 1.The mixer is used for mixing raw materials.
2.The pet food extruder is used for curing, puffing, and forming raw material. Normally the big size of extruders contain a pre-conditioner which is used for pre-conditioning and pre-heating the raw materials through steam, the raw materials are softened, which is more conducive to molding, and at the same time reduces the wear and tear of the raw materials to the extruder machine.
3.The air conveyor is used to deliver products.
4.The dryer is used to dry pet food. According to the different energy sources, we have electric dryers, steam dryers, oil/gas dryers for you to choose from.
5.The flavoring machine is used to flavor pet food. This is a twin-drum flavor that is used to add powder or liquid condiments to pet food. We also have single-drum flavors and eight-square flavors for you to choose from.
6.The cooling machine is used to cool pet food before packing.
7.The packing machine is used to pack pet food. We have fully automatic and semi-automatic packing machines for you to choose from. Powder, granular and blocky products can be packed by the packing machines.